Forbes Vietnam has just published a list of 30 Under 30 – 30 most prominent under 30 faces of Vietnam in 2018.

This is the third time Forbes Vietnam has made a list of honoring young faces operating in many different fields, having positive effects in their industries and areas of operation in Vietnam.
This year's list, along with young entrepreneurs, founders of start-up companies, is noticeably successful, there are also outstanding individuals in the fields of art, entertainment, creativity, and sports.
In addition to the young people involved in social activities, there are scientific researchers who are playing important roles in creating a remarkable change in the breakthrough research industry of the industrial revolution. 4.0, like artificial intelligence, machine learning.
90% of the people on the list have university, college and university education. When offered to choose the main characteristics to describe themselves, the outstanding features chosen by these young people are: risky, high standards, ambitious and ideal.
Success, for them, is the love of doing and exploiting their full potential, very few people choose fame and no one chooses money to describe their success.
Statistics show that over 60% of Forbes Vietnam 's 30 Under 30 list has received training from overseas universities. Most returned to work in the country and some were working abroad but still very attached to contributing to the development of Vietnam.
While those in the entertainment industry build careers and influence from the domestic environment with the needs of the entertainment market are high, scientists find foreign countries – especially public ones. Big US technology company – is the best environment for them to develop their capabilities.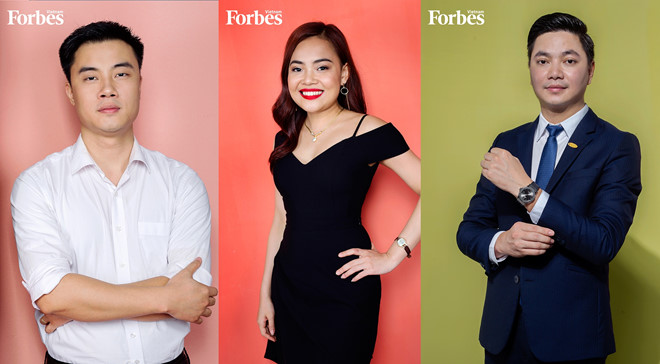 Danh sách gồm:
1. Tran Manh Cong (30 years old) is the co-founder of the start-up incubation program Topica Founder Institute
2. Pham Anh Duc (29 years old) is the CEO and founder of ViCare, a medical information search platform and connecting users and health services in Vietnam.
3. Bui Quang Huy (30 years old), co-founded Rikkeisoft in 2012, specializes in providing software outsourcing services for the Japanese market.
4. Nguyen Van Quang Huy (28 years old), is a co-founder and technical director (CTO) of Holistics, which provides data infrastructure and reporting analysis services (Business Intelligence – BI Platform). for business customers.
5. Nguyen Khoi (27 years old), CEO and founder of Wefit. This is an application built according to the principles of a shared economy, serving both the interns and fitness service providers.
6. Luu The Loi (27 years old) is a co-founder and managing director of Kyber Network, a model of pre-coding trading floors, businesses have mobilized US $ 52 million from more than 21,000 members at over 100 nation.
7. Duong Quynh Phuong (30 years old) is Vice President of NSI Ventures, investment fund specializing in A / B investment in startups has proven business model and revenue.
8. Hà Thị Tú Phượng (25 years old), founder, CEO of METUB.
9. Nguyen Lan Trung Anh (30 years old), Chairman of XLE Sport and Entertainment Company, operating in sports in Vietnam, running sports clubs …
10. Nguyen Thuy Linh Cat (27 years old), founder, CEO of Nguyen Sa Fashion Company (Catsashop) with revenue of VND 50 billion in 2017.
11. Nguyen Duy (28 years), CEO, KOVA Trading Joint Stock Company specializes in high-class paint lines.
12. Le Canh Bich Hanh (29 years old), CEO of Vascara company, women's fashion brand now has 100 stores. Vascara's products currently focus on the line of shoes and bags, in which 100% footwear is manufactured in Vietnam, bags are processed according to Vascara's design.
13. Tran Minh Long (29 years old), CEO CEN Group in the South, the company currently has 450 employees, in 2017 achieved 310 billion VND in revenue.
14. Pham Thanh Thai (28 years old), Dr., Amazon. In 2016, Thai graduated from the Stanford University Ph.D.
15. Luong Minh Thang (30 years old) is a doctor, a research scientist at Google Brain, a unit specializing in machine learning (a machine for artificial intelligence, AI) that has a great influence at Google. .
16. Nguyen Thi Tuyet Dung is a female football player.
17. Nguyen Tran Duy Nhat (28 years old), a martial artist. In May 2017, Nguyen Tran Duy Nhat won the Muay World semi-professional title of 60kg.
18. Le Giang (30 years old) is a visual artist, co-founder of Six Space in Hanoi.
19. Tran Dung Thanh Huy (28 years old), director of many short films such as Look will see (2006), Key of life (2008), Life (2008), Story of three people (2009), Biography (2011) ); The Pursuit (2011), Marble (2011), 16:30 (2012).
20. Dang Thanh Long (27 years old), co-founded Saigon Artbook – a 7-period book series, founded inpages.org – an art space focusing on cultural promotion and art books.
21. Giang Quoc Nghiep (28 years old) is a circus actor with more than 15 years of age.
22. Isaac (Pham Luu Tuan Tai), 30 years old is a singer and actor.
23. Son Tung M – The stage name of Nguyen Thanh Tung, 24 years old.
24. Vu Cat Tuong, 26, is also a famous young artist with more than 30 awards.
25. Tran Duc Vien, 28 years old, is the director and director of FAPtv. FAPtv (Forever Alone People or Funny Action Program) is a specialized content development team for the prominent Internet platform in Vietnam in the past two years.
26. Phan Hoang Lan, 30 years old, works at the Market Development Department and Science and Technology Enterprise (NATEC) – Ministry of Science and Technology.
27. Nguyen Mai Huong, 28 years old, is a lecturer in psychology, National University of Singapore, a member of the American Psychological Association and the editor of the "Psychology at a glance" series.
28. Le Nguyen Thien Huong, 30 years old is the founder and coordinator of Action for Son Doong.
29. Nguyen Hoang Phong, 23, is a co-founder and manager of the Love of Knowledge (LOK) knowledge page.
30. Nguyen Thi Thu Trang, 27, is the founder, CEO of WildAct, a non-governmental organization that works in the field of wildlife and environmental conservation in Vietnam, launched in 2013.
[According to VnEconomy]