Globally, women still struggle to reach top leadership positions and are also less likely to become entrepreneurs. But Vietnam, an emerging market in Southeast Asia is making progress in addressing the issue of gender equality.
Vietnam was among the first countries to ratify the United Nation's (UN) Convention on the Elimination of all Forms of Discrimination Against Women (CEDAW) in 1982 with women's participation in the country's labour force at over 73 percent, one of the highest in Southeast Asia. According to the World Economic Forum's (WEF) 'Global Gender Gap Report in 2018', Vietnam is among the top 25 countries in the world when it comes to closing the labour force gender gap.
Women-owned businesses
A recent Grant Thornton's report titled 'Women in Business 2019,' revealed that women hold 36 percent of senior management positions in Vietnamese businesses, ranking second highest in the region after the Philippines' 37.5 percent.
The country also has a large percentage of women-owned business. Based on a study by Mastercard in 2018 on women entrepreneurs, 31.3 percent of businesses in Vietnam are owned by women. The figure places the nation sixth out of 53 surveyed economies, ahead of many European countries, as well as the US and China.
An International Finance Corporation (IFC) 2017 report on 'Women-owned enterprises in Vietnam: Perceptions and Potential,' showed that 57 percent of women-owned businesses in Vietnam are microenterprises, 42 percent are small-medium enterprises (SMEs) and one percent are large enterprises. Vietnam's central government is targeting to have one million enterprises by 2020, of which more than a third will be owned by women.
Despite a high rating on the Mastercard index, Vietnamese women ranked among the lowest in 'Quality of Governance' (47), 'Entrepreneurial Supporting Factors' (48) and 'Ease of Doing Business' (36). Vietnamese women are also disadvantaged culturally as they rank low in 'Cultural Perception of Women Entrepreneurs' (25) which is lower than most Southeast Asian markets.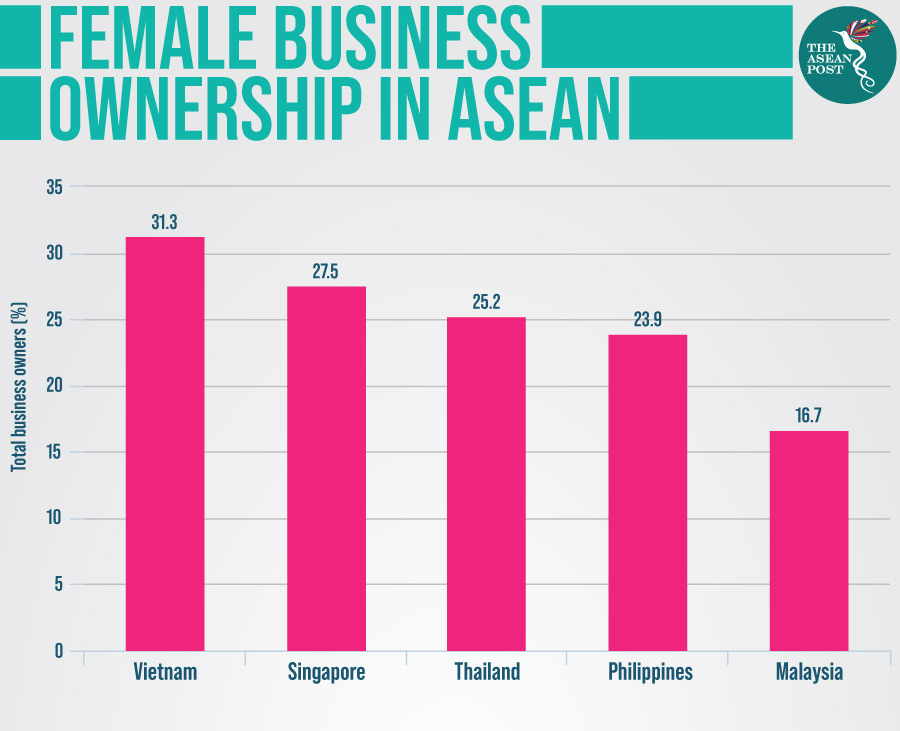 Source: Mastercard Index of Women Entrepreneurs, 2018
The Mastercard study also notes the disparities between men and women across the region. Women-owned enterprises (WOE) are often smaller operations compared to those run by men. Women are also in fields more prone to economic instability such as retail and wholesale businesses. Additionally, women in Vietnam experience a significant, widening gender gap, income gap and are subject to frequent sexual harassment.
Capital constraints 
A 2019 analysis by Boston Consulting Group (BCG) shows that if women and men participated equally as entrepreneurs, the global gross domestic product (GDP) could rise by approximately three to six percent, boosting the global economy by US$2.5 trillion. According to the consulting firm, WOEs encounter four distinct types of constraints: human and social capital limitations, financial disadvantage, societal and cultural expectations, and institutional barriers.
The IFC's analysis found that inherent biases impact women's ability to access formal financing and other financial services. In the study, 37 percent of WOEs had access to bank loans in the past two years, compared to 47 percent of male business owners.
According to a 2018 collaborative report by the Vietnam Women Entrepreneurs Council (VWEC), The Asia Foundation and Mekong Business Initiative (MBI), WOEs' need for financial resources is high. The report, 'Needs assessment of women-owned small and medium-sized enterprises in Vietnam,' found that 66 percent of WOEs wish to gain financial support yet only 20.5 percent receive it. As it stands, the financing gap is estimated at US$1.19 billion for WOEs.
The VWEC report also shows that when it comes to financial resources, WOEs face difficulties including interest rates (67 percent), inappropriate loan application package and collaterals (45 percent), unsuitable terms of loans (33 percent) and lack of collaterals (30 percent).
"To continue its rapid growth, Vietnam needs to support this sector to access credit and markets. Much more can be done to connect women SMEs to local and global value chains," said Amy Luinstra, IFC programme manager and gender advisor in East Asia Pacific.
It is a misconception that women have lower financial management skills and need more financial education. Based on the IFC report, banks reported lower non-performing loans (NPLs) among women entrepreneurs at 0.95 percent compared to NPLs among men at 2.17 percent. Women are also more conscientious borrowers than men, as they approach risk differently by analysing the risk more, rather than simply following their intuition.
In Vietnam, the legal environment provides a good foundation for companies to develop comprehensive gender policies within their organisations. But stereotypes and cultural norms are hard to overcome as they are strongly influenced by traditional perceptions of gender roles.
Addressing barriers
A support system is essential to help Vietnamese women entrepreneurs succeed. The Women's Initiative for Startups and Entrepreneurship (WISE) is an organisation that supports start-ups led by women and entrepreneurship in Vietnam to address gender-specific challenges through mentoring and fund-raising. Besides support, WISE also connects women with resources and opportunities to innovate and grow.
In 2018, VPBank launched a loan package specifically designed for WOEs and has since disbursed 12,000 loans to date. Aside from that, the bank has also built free access to non-financial services for women-led SMEs, enabling them to share experiences and find new networking opportunities for their business. Alleviating financial barriers for women can empower them which in turn can have positive impacts on socio-economic development, gender equality and poverty reduction.
Source: https://theaseanpost.com