May 28th 2020 – WISE IS SO PROUD TO BE ONE OF EIGHT WINNERS under the Advancing Women's Empowerment Fund (AWEF), out of more than 180 applicants across the globe.
Overview
At the 2019 ANDE Annual Conference, ANDE announced an exciting new partnership with the U.S. Agency for International Development (USAID), under the Women's Global Development and Prosperity (W-GDP) initiative, and the Visa Foundation to launch the ANDE Gender Equality Initiative, which aims to support women entrepreneurs in emerging markets.
The initiative's first activity, the Advancing Women's Empowerment Fund, will identify the best strategies to get investment capital into the hands of women entrepreneurs in emerging markets. The fund will distribute $1.2 million in funding over two years through one-year grants of up to $150,000 to entrepreneurial support organizations.
ANDE seeks proposals to pilot, test, or expand scalable solutions that tackle the financing gap for women-led SGBs in South and Southeast Asia to create learnings and insights for uptake by the broader SGB sector. ANDE intends to support a minimum of eight proposals for this round, from a total funding pool of $1.2 million. Submissions should be for activities of up to 12 months with a maximum total request of US $150,000.Current grantees (announced May 2020)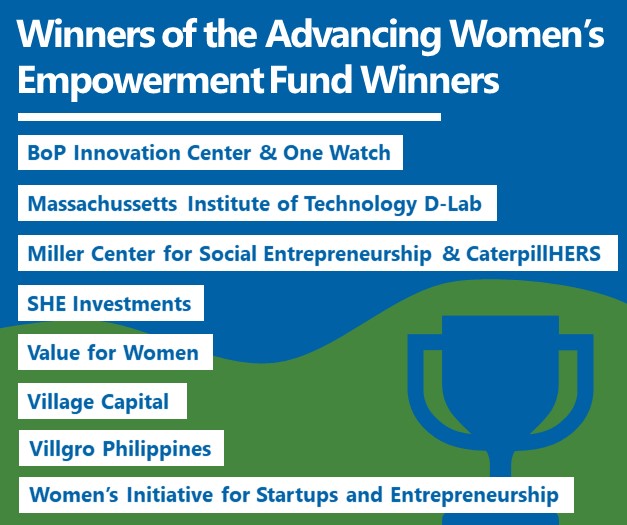 Eight organizations have been selected to receive funds under the first round of AWEF. The proposed projects span the region, covering Cambodia, India, Indonesia, Myanmar, Nepal, Pakistan, Philippines, and Vietnam.
The Advancing Women's Empowerment Fund is supported by:
Source: https://www.andeglobal.org/page/awef
For further information, please visit: https://www.aspeninstitute.org/news/press-release/ande-awef-winner-announcement/