Officially launched in March 2019, through many rounds of screening and shorlisting, the Innovative Start-Up Program for Women has selected the best startups to go to the Final Round.
All of these startups are founded and/or run by young women, who are extremely active and talented and have a lot of potential to grow. Their products and services are of good quality, bringing many creative elements, related to technology and promising to bring very positive solutions to social problems.
Let's see who they are and continue to accompany WISE's Acceleration Program to look forward to the great progress of the top 9 finalists when they are accepted into the program and receive useful support from the expert network , WISE's domestic and international mentor!
CLICK HERE TO SEE WHO ARE THE FINALISTS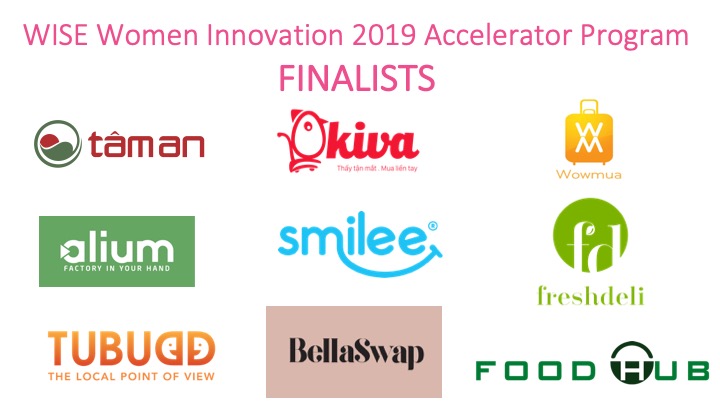 On June 28, Start-ups in Hanoi will attend the Kick-off Workshop and Platform Business training session by speaker Nguyen Ngoc Diep – CEO VNP Group. In TP. Ho Chi Minh, the seminar will be lead by the expert team from Grab.
The Bootcamp will take place on July 23 and 24 in Hanoi.
To continue to update the latest information about WISE Women Innovation Accelerator 2019, follow us on Facebook: https://www.facebook.com/wisenets/